Professional Basement Waterproofing Services
Our team at Stay Dry Waterproofing, LLC works with homeowners in central Ohio, northern Kentucky, and eastern Indiana to help them keep their basements dry and safe. We have years of experience helping homeowners with basement waterproofing issues caused by a variety of factors. We have the knowledge to fix wall cracks, bowed walls, and other foundation issues that may be causing water to enter your basement.
Interior Waterproofing Solutions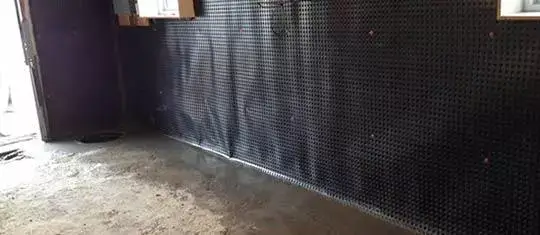 Whether you have a block or poured foundation wall we can fix virtually any issue causing water to seep into your basement. If you don't have a basement, our team can also help you waterproof your crawl space with crawl space encapsulation.
Our interior waterproofing solutions are designed to solve your basement water intrusion issues with minimal impact on the exterior of you home. These include interior drainage systems, crack repair, and sump pump installations. Our experts will always attempt to find a solution that will cause the least disruption on your property. Look below to learn more about each of our interior waterproofing solutions.
Interior Drainage Systems
Our interior basement drainage system can help you solve your wet basement issues. Our custom designed water drainage system is built to direct the water out of your basement and away from your home.
This process involves removing a portion of the existing basement floor and installing the drainage along the wall. This will keep most leaks from wall cracks, window wells, and other exterior sources from reaching your basement floor. We often recommend that with the installation of this system you also consider installing a sump pump system.
Interior Crack Repair
One of the most common causes of water leaks in basements is a large crack in your foundation wall. This crack can cause water to leak into your basement and can compromise the structural support of your home. Our carbon fiber foundation repair products can seal the crack preventing further leaking and strengthening the wall. If the carbon fiber repair method is not suited for this application we can also use the traditional crack injection method.
French Drain System
A french drainage system, also known as a weeping tile, is a trench containing a perforated pipe that is filled with clean gravel. This pipe is used to channel excess water from your basement, yard, and downspout extensions. By having this installed in your home, it will prevent ground and surface water from damaging the foundation of your home, eventually leading to cracks in your walls and water leaks in your basement.
Downspout Extensions
To help ensure that the water comming out of your gutters is not ending up too close to the foundaiton, we can install downspout extensions. These will move the water futher frum the house keeping your basement safe and dry.
Sump Pumps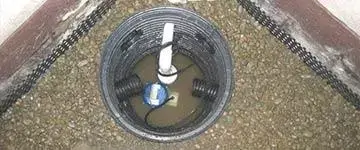 Sump Pumps are a critical component of basement waterproofing and flood prevention for basements. This waterproofing solution pumps incoming water away from the basement. A fully functioning sump pump is crucial for removing standing water and excess seepage from cracks in your basement walls. These cracks are caused by constant hydrostatic pressure which can occur with heavy downpours or improper yard grading. Our installation process is fast, seamless, and extremely effective. We also recommend using a battery backup system to keep your sump pump running in the event of a power outage due to a heavy storm.
Exterior Waterproofing Solutions
On some occasions the best solution to prevent water infiltrating your home is to waterproof your basement from the outside. After removing the dirt around the perimeter of your home, our team can install specially designed water barriers to keep water off of the outside of your home. Once this is done we can connect the sump pump to an exterior drainage system to pump the water away from your home. If your home does not have a basement, our team can also inspect and waterproof crawl spaces. Often times the same issues may occur when your home has a crawl space instead of a basement.
Yard Drainage
An additional way to keep your basement dry is to improve your yard drainage. This will generally include some grading of the area around the house to ensure that it all slopes away from the foundation, keeping your basement dry.
Contact Our Team For Basement Waterproofing
If you have noticed water leaks in your basement or crawl space our team can help. We offer professional basement waterproofing and crawl space waterproofing services for homeowners in Central Ohio, Northern Kentucky, and Eastern Indiana to help you keep your home dry year round. Click the button below to contact our experts and get a free inspection and estimate on basement waterproofing.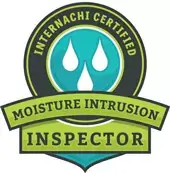 Proud Supporters of the Wounded Warrior Project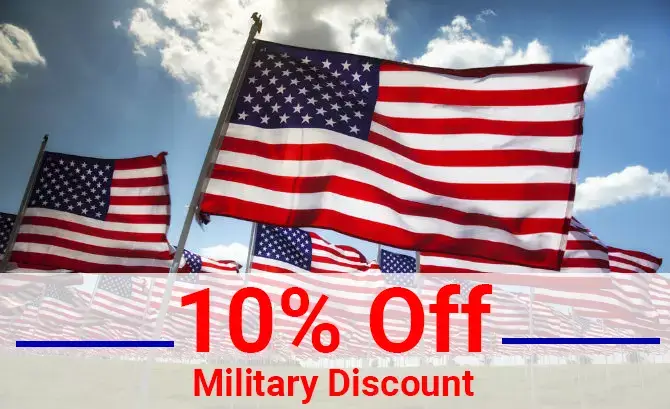 The Wounded Warrior Project is a nonprofit organization based out of Jacksonville, FL. Their mission is to honor and empower wounded warriors. Its purpose is to raise awareness and to enlist the public's aid for the needs of severely injured service members, to help them aid and assist each other, and to provide programs and services to meet their needs. The organization also offers aid for warriors experiencing invisible wounds of war like Post Traumatic Stress Disorder or Traumatic Brain Injury. For these signature wounds of the current conflicts, the Wounded Warrior Project offers programs like Project Odyssey, a combat stress retreat. Our team at Stay Dry Waterproofing is proud to support this initiative for helping our nation's veterans adapt to life after service. We also offer a 10% discount* for all military service members on any of our services.
* Some restrictions may apply with a $500 maximum
Serving Central Ohio, Northern Kentucky, and Eastern Indiana
Our team at Stay Dry Waterproofing offers professional basement waterproofing, foundation repair, crawl space repair, and mold remediation to home and business owners in central Ohio, northern Kentucky, and Eastern Indiana. We pride ourselves on providing our top-notch services to homeowners no matter the size of their home or project. If you need emergency basement waterproofing services, foundation repair, or mold remediation our team is the right choice for you. Click the button below to view our entire service area.