Water and Fire Damage Restoration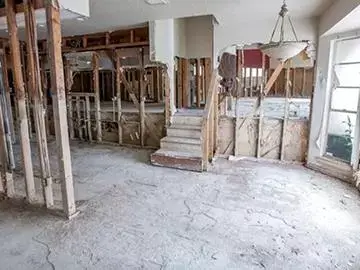 Response time is crucial when responding to damage caused by water or fire in your home or businesses. Whether the damage was caused by a burst pipe, damaged water heater, lit candle, or some other unforeseen fire hazard our team has likely encountered it all. No matter the cause whether you are a home or business owner it is important that you respond quickly in order to start restoring your home before more property damage occurs. Our team at Stay Dry Waterproofing has the experience you need for water damage, fire damage, and smoke damage restoration.
When responding to water from a flood or leak, or fire and smoke damage in your home or business, an immediate response can help minimize the overall damage and the ultimate cost of restoration. The longer you wait, the worse it will get and the more likely that serious problems such as mold and other property damage have time to develop. We have worked on a variety of home restoration jobs for both water and fire damage and take pride in utilizing industry standards for the process.
Our Water and Fire Damage Restoration Services
Our professional restoration contractors are here when you need them most. Regardless of whether you have damage from fire or water in your home or business we have the services you need to restore your propery.
Water Removal
Hardwood Floor Drying
Carpet Drying
Drywall Removal
Smoke Damage Cleanup
Fire Damage Removal
Drywall Replacement
Water Damage Restoration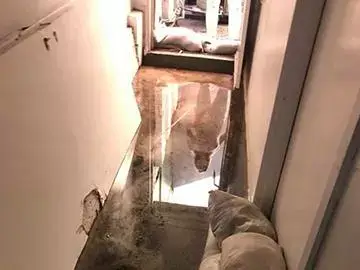 Our team has likely seen every cause of water damage in a home. From burst pipes and damaged water heaters to flooding and basement leaks. We know that a quick response time can drastically reduce the chance that your home will sustain more damage from wood rot and mold growth. Dealing with water damage in your home or business yourself may seem like a good way to save some money, but it can become a large expense in the end. Our trained water restoration contractors adhere to IICRC standards when restoring homes that have been damaged by water.
Restoring your home after it sustains water damage can be a tedious task as everything from hardwood floor drying and carpet drying to the replacement of damaged drywall and other structures must be completed in order to protect your home. Our water damage restoration contractors follow the IICRC S500 guidelines for water-damage restoration, insurance loss assessment & evaluation, categorization of the water, professional drying methods, structural and content considerations, detailed monitoring of the drying progress, and final inspection details. We are the best in the industry at restoring homes back to their previous beauty.
Preparing To Restore Your Home
There are many steps to take when preparing for a water damage restoration company to restore your home. Below is a brief list for you to consider when contacting our experts for water damage restoration services.
Identify the source of the leak and stop it

If you are unable to stop the leak … don't panic!
Simply call your local plumber or turn off the property's main shut-off valve, if you know where it is located

Be aware of hazards such as: electric shock, slipping and toxic odors from sewer back-up
Call Stay Dry Waterproofing to begin emergency service: (614) 930-6919
Call your insurance company or local agent and advise them of the situation

Be prepared to provide information about how the water loss occurred
Let them know that you have called us – once we assess the situation, we will touch base with your insurance company to share loss specifics

While we are on our way, you may want to:

Move valuables to higher ground
Block the area off if it poses a risk to your employees or patrons
Perch furniture up with wood blocks or plastic wrap to minimize moisture exposure
Fire Damage Restoration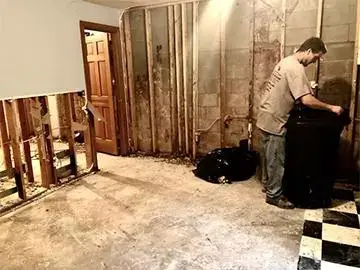 Fire can cause all sorts of damage to your home, it not only destroys what it touches, but also creates soot that can damage your walls, ceilings, floors, and other personal property. In addition to this, the smoke created in a fire can leave behind hard to remove stains and occurs. Our team has seen all types of fire damage from just single walls to entire rooms in homes. Fire damage restoration is a specialized process that differs from just building a new home. It involves removing any damaged materials from drywall to cabinets and appliances and rebuilding the room as it once was.
Building materials, design, and finished all have to be matched to the existing structure in order to completely restore a home damaged by fire. Smoke odor must also be neutralized in all of the remaining rooms.
Our fire damage restoration contractors have expertise in cleaning almost anything in your home that may be damaged by fire or smoke. From furniture to fine china and electronics, we know the correct method for each item to remove smoke and odor. Our goal is to restore your home and its contents back to the condition they were before the damage occurred.
Preventing Fire Damage
While there are not many things you can do when your home has succumbed to fire damage, there are some things you can do to help prepare for our fire damage restoration team.
Open Windows for ventilation, weather permitting.
Limit foot traffic on affected carpeting.
Change furnace filter if blower was in operation.
Empty freezer and refrigerator completely if electricity is off. Prop doors open.
Remove pets (especially birds).
Secure the property against theft.
Contact Our Experts
Whether you have fire or water damage in your home or business you can trust us to help restore your property back to its former beauty. Contact our experts today either with our online contact form or by calling (614) 930-6919 to schedule your water or fire damage restoration service.